Introduction to Facilities Maintenance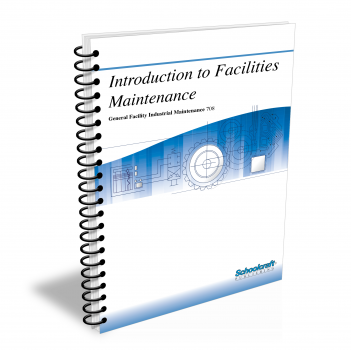 Course Number: 708
The Introduction to Facilities Maintenance textbook provides a brief introduction to the knowledge needed to work in facility maintenance. Topics discussed include measuring tools, blueprint reading, lubrication, bearings and shafts, couplings, pumps, and piping systems. The textbook also introduces troubleshooting techniques.
Does your curriculum require additional topics not included in this textbook? Build a customized version of the Introduction to Facilities Maintenance textbook below.
Recommended Contact Hours – 17
Preview a Chapter
Available Supporting Material
Table of Contents
My Custom Book
Exam Copies
Suggested Titles
Table of Contents
Chapter 1: Safety
Topics: Responsibility for safety; Unsafe acts and conditions; Recognizing hazards; Types of accidents; Investigation; Handling emergencies
Learning Objectives:
Define the terms accident and hazard.
Name and define the four main types of hazards.
List and define various types of accidents.
Compare meanings of the terms unsafe act and unsafe condition.
Name the three ways in which a toxic substance can enter your body.
List ways in which a company must plan for emergencies.
Tell the main reason for prompt accident investigation.
Chapter 2: Measuring Tools
Topics: Linear and angular measurement; Rules and measuring tapes; Slide, vernier, and micrometer caliper; Squares
Learning Objectives:
Explain how to hold a rigid rule correctly when measuring an object and show from which point the measurement begins.
Describe how to set lock joint transfer-type calipers.
Identify vernier calipers.
Explain how to take a measurement with a micrometer caliper.
Name the parts of a combination square.
Chapter 3: Fasteners
Topics: Threaded fasteners; Screw threads; Types of nuts; Washers; Safety wiring; Keys and pins; Rivets
Learning Objectives:
Identify seven major types of threaded fasteners.
Read and interpret common screw thread and threaded fastener specifications.
Describe the three actions in a manual riveting operation, and explain why each action must be done properly.
Demonstrate the proper technique for safety wiring a group of threaded fasteners.
Identify three kinds of washers.
Chapter 4: Blueprint Reading
Topics: Detail drawings; Notes and dimensions; Assembly and pictorial drawings; Orthographic projections; Auxiliary views; Sections
Learning Objectives:
Identify details, markings, and machine parts from an assembly drawing.
Identify an object from an orthographic drawing.
Identify elements located within the title block of a detail drawing.
Explain why more than one orthographic projection is needed to show an object on a blueprint.
Chapter 5: Principles of Lubrication
Topics: Lubricant classification; Friction; Cooling and sealing action of lubricants; Corrosion prevention; Preventive maintenance
Learning Objectives:
Define lubrication and describe the four forms of lubricants.
Discuss the characteristics of static, kinetic, fluid, and rolling friction.
Explain how a lubricant reduces wear and dampens shock.
Discuss the cooling action of lubricants and explain how they prevent corrosion.
Explain the importance of a lubricant's sealing action, and explain how it works.
Chapter 6: Bearings and Shafts
Topics: Bearing classification and selection; Shaft materials and stresses; Vibration; Critical speed; Fits and clearances
Learning Objectives:
Name the two main categories of bearings and cite their advantages.
Identify bearings by the kind of support they provide.
Describe the three kinds of stresses acting on shafts.
Explain natural frequency of vibration and critical speed.
Name and describe three classes of fits.
Chapter 7: Coupling
Topics: Solid, jaw, molded-rubber, chain, gear, metal-disk, shear-pin, torque-limiting, brake-wheel, floating-shaft, spacer, insulated, and other couplings
Learning Objectives:
List three functions usually performed by a coupling.
Describe two types of jaw couplings.
Name an application for molded rubber couplings.
State an advantage of chain couplings.
Explain the operation of a shear pin coupling.
Describe a torque limiting coupling.
Name an application that involves a floating shaft.
Describe a limited end float coupling.
List advantages and disadvantages of spacer couplings.
Chapter 8: Pumps
Topics: Development of pumps; Pumping systems; Water, chemical, waste, high-viscosity, and solids pumping systems
Learning Objectives:
Describe dead-end and recirculating hot water distribution systems.
List several special considerations involved in chemical pumping systems.
Define the term viscosity and give examples of high-viscosity materials.
Tell the effects of heat on the pumping of high-viscosity materials.
List some special problems involved in the pumping of solids.
Chapter 9: Piping Systems
Topics: Nature of fluids; Keeping fluids clean and moving; Piping system maintenance, insulation, and layout; Valves, fittings, supports, and hangers
Learning Objectives:
Describe what typical piping systems consist of, and explain their importance to plant operations.
Identify common valves and fittings, pipe hangers and supports.
Describe the effects of temperature on piping system components, and explain the need for insulation.
List routine maintenance considerations for piping systems.
Chapter 10: Introduction to Troubleshooting
Topics: Troubleshooting skills, duties, aids; Mechanical and electrical troubleshooting; Maintenance organizations and personnel; Scheduling
Learning Objectives:
Tell why efficient troubleshooting is important in a production plant.
Name the four common troubleshooting aids.
List the steps in troubleshooting a machine.
List the steps in troubleshooting a system.
Describe a typical maintenance organization.
Chapter 11: Introduction to Pneumatics
Topics: Air supply system; Reciprocating and rotary compressors; Cooling; Compressor maintenance; Air-line filters and lubrication
Learning Objectives:
Explain the operation of linear actuators-cylinders-in a typical pneumatic circuit.
Describe the various types of compressors and how they work.
Define intercooling and aftercooling.
Describe basic preventive maintenance procedures for compressors.
List the components of an effective delivered-air system and explain how they work together.
Describe the three main types of air-line lubrication.
Add Chapters to Your Custom Book
Select Chapter(s):
Chapter 1: Safety
Chapter 2: Measuring Tools
Chapter 3: Fasteners
Chapter 4: Blueprint Reading
Chapter 5: Principles of Lubrication
Chapter 6: Bearings and Shafts
Chapter 7: Coupling
Chapter 8: Pumps
Chapter 9: Piping Systems
Chapter 10: Introduction to Troubleshooting
Chapter 11: Introduction to Pneumatics
My Custom Book
Create a custom book that contains only the training content that your students need to succeed
Our topics cover a broad and diverse spectrum of subject matter, from reading blueprints to electrical schematics, measurement to rigging and safety, material handling to welding, and everything in between! Choose only the lessons that meet your specific curriculum requirements.
Request Exam Copies
Exam Copies
Ready to see a copy of our textbooks? After selecting which textbooks you'd like to review for your course, you can submit your request by either logging in or creating an account so we know where to ship your exam copies. A representative from Schoolcraft will contact you to confirm and finish processing your request.

Exam copies are always free and yours to keep.
Selected Exam Copies
none selected
* Maximum of five copies can be ordered