System Troubleshooting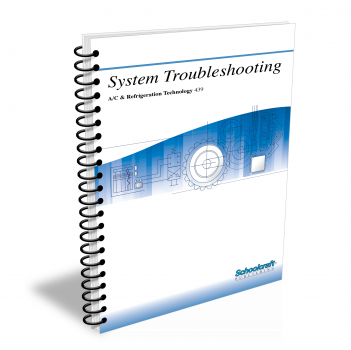 Course Number: 439
The System Troubleshooting textbook discusses the keys to effective troubleshooting and emphasizes the importance of safety. It details a step-by-step procedure to use when troubleshooting, covering the use of a troubleshooting flowchart. It examines three sample problems, leading the student through the steps necessary to locate the problem in each example.
Does your curriculum require additional topics not included in this textbook? Build a customized version of the System Troubleshooting textbook below.
Recommended Contact Hours – 10
Preview a Chapter
Available Supporting Material
Table of Contents
My Custom Book
Exam Copies
Suggested Titles
Table of Contents
Chapter 1: Preparation for Troubleshooting
Topics: Mechanical refrigeration systems; Keys to effective troubleshooting; Safety in troubleshooting; Tools and equipment; Supplies; Human relations skills
Learning Objectives:
Give an example of each of the following applications: process refrigeration, commercial refrigeration, process air conditioning, comfort air conditioning.
Tell what knowledge is essential for an effective troubleshooter to have.
Tell what safety precautions must be followed when dealing with the mechanical, electrical, chemical, and environmental hazards involved in troubleshooting.
List the necessary tools, equipment, and supplies needed to perform troubleshooting procedures.
Explain why human relations skills are important to the refrigeration system troubleshooter.
Chapter 2: Troubleshooting Procedures
Topics: Six steps of troubleshooting; Avoiding a recurrence of the problem
Learning Objectives:
Name the six basic steps in the troubleshooting procedure.
Explain why it is important to collect information from the equipment operator when a system is malfunctioning.
Explain what type of information is contained on a nameplate and in the operations log of a system.
Explain the structure and use of troubleshooting charts.
Explain how to set up a preliminary checklist and how to select the most likely components and subsystems for further examination.
List items to check out after making repairs to a refrigeration system.
Chapter 3: Troubleshooting Electric Controls
Topics: Troubleshooting flowchart; Checking the contactor; Faulty coils; Relays and switches; The power side
Learning Objectives:
Explain how to use a troubleshooting chart.
Explain how to isolate a control circuit failure from a motor circuit failure.
List the causes of abnormally high control circuit resistance.
Explain the difference between using an ohmmeter and using a voltmeter to check for a closed electric switch.
Describe how to check contactor coils and motors for shorts and opens.
Chapter 4: Troubleshooting Pneumatic Controls
Topics: Equipment and tools; Checking the control air supply; Output pressure test; Checking for air leaks; Checking other controllers; Actuator problems; Thermostat adjustments
Learning Objectives:
Describe the symptoms of control air contamination and explain how to remedy it.
Explain how to check thermostat output pressure.
List at least three kinds of actuator problems and explain how to solve them.
Describe the calibration procedure and explain its purpose.
Explain how to calibrate a pneumatic controller.
Chapter 5: Troubleshooting the Refrigerant Circuit
Topics: Preliminary checks; Analyzing the complaint; Checking refrigerant pressures; Checking refrigerant charge; Checking for refrigerant leaks; Compressor cycling; Checking high-side components; Low-side problems, Distribution problems
Learning Objectives:
Distinguish between a refrigerant circuit problem and a conditioned-medium problem.
Explain the procedure for checking refrigerant charge.
Name major causes of variance in head and suction pressures.
Explain how to isolate the cause of compressor short cycling.
Explain how to use head-pressure readings and suction-pressure readings in diagnosing refrigeration problems.
Add Chapters to Your Custom Book
Select Chapter(s):
Chapter 1: Preparation for Troubleshooting
Chapter 2: Troubleshooting Procedures
Chapter 3: Troubleshooting Electric Controls
Chapter 4: Troubleshooting Pneumatic Controls
Chapter 5: Troubleshooting the Refrigerant Circuit
My Custom Book
Create a custom book that contains only the training content that your students need to succeed
Our topics cover a broad and diverse spectrum of subject matter, from reading blueprints to electrical schematics, measurement to rigging and safety, material handling to welding, and everything in between! Choose only the lessons that meet your specific curriculum requirements.
Request Exam Copies
Exam Copies
Ready to see a copy of our textbooks? After selecting which textbooks you'd like to review for your course, you can submit your request by either logging in or creating an account so we know where to ship your exam copies. A representative from Schoolcraft will contact you to confirm and finish processing your request.

Exam copies are always free and yours to keep.
Selected Exam Copies
none selected
* Maximum of five copies can be ordered