Equipment Installation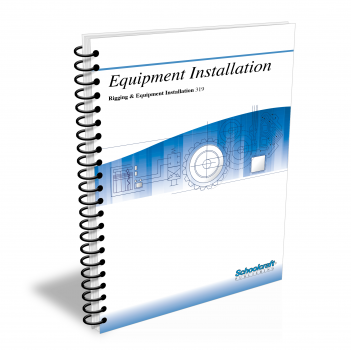 Course Number: 319
The Equipment Installation textbook covers installation procedures for large plant equipment. It considers factors affecting proper installation in detail, from preparatory relocation of underground piping and wiring, through equipment anchoring, aligning, and test running.
Does your curriculum require additional topics not included in this textbook? Build a customized version of the Equipment Installation textbook below.
Recommended Contact Hours – 10
Preview a Chapter
Available Supporting Material
Table of Contents
My Custom Book
Exam Copies
Suggested Titles
Table of Contents
Chapter 1: Preparing the Site
Topics: Relocating underground piping, wiring, and cables; Barricading the work area; Removing excavated materials; Foundations and footings; Reinforced concrete; Safety precautions for excavating
Learning Objectives:
Tell who plans the installation of new equipment and list the steps involved.
Define the terms foundation and footing.
Tell which type of ground will support the most weight.
Explain how steel rods are held in position when pouring a concrete footing.
Name the best materials for filling around a foundation.
Explain how to protect concrete that might come into contact with oil or chemicals.
Tell how long new concrete must sit before equipment is installed on it.
Chapter 2: Vibration Control and Anchoring
Topics: Selecting anchors and isolators; Isolator mounts; Anchor bolts; Using power hammers; Grouting
Learning Objectives:
Define vibration and tell how it enters and leaves equipment.
Tell what type of isolation is best to use on sensitive testing instruments.
Explain how to isolate anchor bolts when mounting equipment on pads.
Tell what type of wrench to use for tightening anchor bolts.
Name the best tool for drilling anchor bolt holes in concrete.
Tell why the bases of production and processing equipment should be grouted.
Explain why you must not use a concrete mix to grout anchor bolts.
Chapter 3: Moving and Setting
Topics: Uncrating; Relocating; Lifting; Raising with jacks and slings; Crowbars; Making the move; Personal safety
Learning Objectives:
Explain the procedures involved in relocating existing equipment.
Tell two things you must know before lifting equipment with a hoist.
List three things to consider when selecting a jack.
Explain the operation and uses of a roller skid.
Tell where to find a floor's allowable load.
Chapter 4: Leveling and Aligning
Topics: Leveling devices; Wedges and shims; Checking alignment; Aligning equipment on the foundation; Alignment screws; Aligning machine tools
Learning Objectives:
Explain the correct way to handle a master precision level.
Explain how to check the accuracy of a level.
Name the greatest enemy of precision tools.
Explain how to level V-shaped ways.
Tell which leveling device is used most often on small equipment.
Name three tools commonly used to check alignment.
Tell how to set an alignment screw to prevent its movement.
Chapter 5: Checking and Test Running
Topics: Electric, hydraulic, and pneumatic connections; Coolant systems; Safety devices; Settings and adjustments; Making the test run; Safety
Learning Objectives:
Explain how to test for the presence of moisture in electrical equipment.
Tell what device is commonly used to prevent excessive pressure in a hot water heater.
Explain the function of a pressure regulating valve.
List the steps to take before initial equipment startup.
Tell the usual cause of excessive temperature during equipment startup.
Add Chapters to Your Custom Book
Select Chapter(s):
Chapter 1: Preparing the Site
Chapter 2: Vibration Control and Anchoring
Chapter 3: Moving and Setting
Chapter 4: Leveling and Aligning
Chapter 5: Checking and Test Running
My Custom Book
Create a custom book that contains only the training content that your students need to succeed
Our topics cover a broad and diverse spectrum of subject matter, from reading blueprints to electrical schematics, measurement to rigging and safety, material handling to welding, and everything in between! Choose only the lessons that meet your specific curriculum requirements.
Request Exam Copies
Exam Copies
Ready to see a copy of our textbooks? After selecting which textbooks you'd like to review for your course, you can submit your request by either logging in or creating an account so we know where to ship your exam copies. A representative from Schoolcraft will contact you to confirm and finish processing your request.

Exam copies are always free and yours to keep.
Selected Exam Copies
none selected
* Maximum of five copies can be ordered