Mechanical Energy Conservation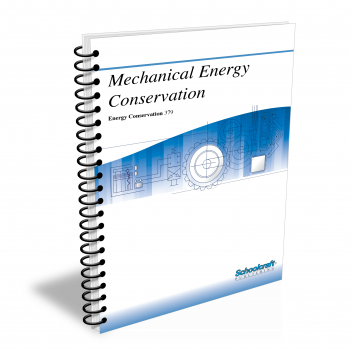 Course Number: 379
The Mechanical Energy Conservation textbook covers the causes and effects of friction and the importance of lubrication. It includes a discussion of efficient operation of materials handling systems, elevators, and escalators. It examines ways to conserve energy by reducing vibration and explains the importance of good maintenance of pumps, blowers, and compressors. Includes information on vehicle efficiency, with emphasis on tuneups, lubrication, and other energy-saving maintenance practices.
Does your curriculum require additional topics not included in this textbook? Build a customized version of the Mechanical Energy Conservationw textbook below.
Recommended Contact Hours – 10
Preview a Chapter
Available Supporting Material
Table of Contents
My Custom Book
Exam Copies
Suggested Titles
Table of Contents
Chapter 1: Reducing Friction
Topics: Power transmission efficiency; Reducing friction; Lubrication; Seals; Lubricating devices and systems
Learning Objectives:
Name the three basic parts of mechanical system
Explain the concept of mechanical efficiency.
Give examples of the three basic kinds of friction encountered in mechanical systems.
List at least four purposes of lubrication.
Define viscosity, viscosity index, and pour point.
Tell why oil and grease seals are used.
Chapter 2: Cutting Transmission Losses
Topics: Belt, chain, and gear drives; Bearings; Clutches and brakes; Drive couplings; Vibration; Balancing machinery
Learning Objectives:
Explain why proper bearing lubrication is important.
Name the drive component responsible for the most power loss.
List three functions of couplings
Show how to check coupling alignment.
Define vibration and explain why vibration control is important.
Compare and contrast static unbalance and dynamic unbalance.
Chapter 3: Pumps, Fans, and Compressors
Topics: Pump installation, piping, and priming; Bearing lubrication; Improving fan performance; Compressor operation and maintenance
Learning Objectives:
Tell why proper pump installation is important to energy conservation.
Describe the problems that can occur if pump bearing lubrication is neglected.
Demonstrate the proper method of replacing pump packing.
List the three major maintenance items related to centrifugal pumps.
Identify several places where energy losses can occur in a fan system.
Explain how to determine whether a fan is suited to the system in which it is operating.
Name several maintenance procedures important to efficient compressor operation.
Chapter 4: Elevators and Conveyor Systems
Topics: Drive packages; Conveyor operation; Escalators; Elevators; Maintenance; Safety; Loading docks
Learning Objectives:
List at least two energy-saving tips to keep in mind when dealing with conveyor operation.
Explain the purpose of a take-up in a conveyor system.
Differentiate between unit-handling belt conveyors and bulk-handling belt conveyors.
Tell how lagging can reduce energy waste.
Name one type of conveyor that is not capable of wasting energy and explain some of its uses and limitations.
List the three basic methods used to drive elevators.
Identify common causes of energy waste at loading docks
Chapter 5: Improving Vehicle Efficiency
Topics: Vehicle selection; Tires; Vehicle operation; Maintenance and repairs; The PM program
Learning Objectives:
Name the three basic areas offering energy conservation opportunities in vehicles.
Explain why it is important to use the correct conservation opportunities in vehicles.
Compare and contrast the applications of IC engine and electric vehicles.
List as least ten tips for fuel-conscious vehicle operations.
Describe what a PM program involves and tell why it is important.
Tell why air cleaner care is important to an energy conservation program.
Explain the importance of battery maintenance in an electric vehicle.
Add Chapters to Your Custom Book
Select Chapter(s):
Chapter 1: Reducing Friction
Chapter 2: Cutting Transmission Losses
Chapter 3: Pumps, Fans, and Compressors
Chapter 4: Elevators and Conveyor Systems
Chapter 5: Improving Vehicle Efficiency
My Custom Book
Create a custom book that contains only the training content that your students need to succeed
Our topics cover a broad and diverse spectrum of subject matter, from reading blueprints to electrical schematics, measurement to rigging and safety, material handling to welding, and everything in between! Choose only the lessons that meet your specific curriculum requirements.
Request Exam Copies
Exam Copies
Ready to see a copy of our textbooks? After selecting which textbooks you'd like to review for your course, you can submit your request by either logging in or creating an account so we know where to ship your exam copies. A representative from Schoolcraft will contact you to confirm and finish processing your request.

Exam copies are always free and yours to keep.
Selected Exam Copies
none selected
* Maximum of five copies can be ordered