Metal Cutting Fundamentals (workbook)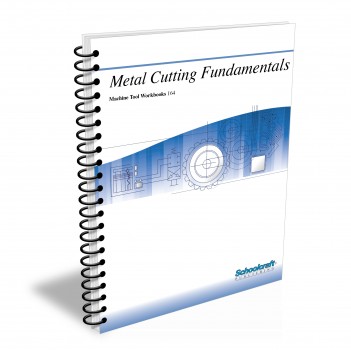 Course Number: 164
The Metal Cutting Fundamentals workbook covers Ferrous and nonferrous metals; Identifying types of steels; Characteristics of metals and cutting techniques; Harig Speed and Feed Calculator.
Does your curriculum require additional topics not included in this workbook? Build a customized version of the Metal Cutting Fundamentals workbook below.
Recommended Contact Hours – 2
Preview a Chapter
Available Supporting Material
Table of Contents
My Custom Book
Exam Copies
Suggested Titles
Table of Contents
Chapter 1: Metal Cutting Fundamentals
Topics: Ferrous and Nonferrous Metals; Identifying Steels; The SAE and AISI Coding Systems; Color Coding; Spark Test; Characteristics of Metals; Changing the Hardness of a Metal; Testing for Hardness; Heat Treatment of Metals; Cutting Tools; Machinability of the Metal; Type of Tool Material; Cutting Fluids; How to Apply Cutting Fluids; Speeds and Feeds; How to Use the Harig Speed and Feed Calculator; Finding Speeds; Finding Feeds; Depth of Cut
Add Chapters to Your Custom Book
Select Chapter(s):
Chapter 1: Metal Cutting Fundamentals
My Custom Book
Create a custom book that contains only the training content that your students need to succeed
Our topics cover a broad and diverse spectrum of subject matter, from reading blueprints to electrical schematics, measurement to rigging and safety, material handling to welding, and everything in between! Choose only the lessons that meet your specific curriculum requirements.
Request Exam Copies
Exam Copies
Ready to see a copy of our textbooks? After selecting which textbooks you'd like to review for your course, you can submit your request by either logging in or creating an account so we know where to ship your exam copies. A representative from Schoolcraft will contact you to confirm and finish processing your request.

Exam copies are always free and yours to keep.
Selected Exam Copies
none selected
* Maximum of five copies can be ordered