Finishing the Building Interior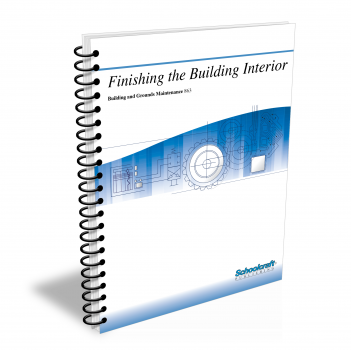 Course Number: 863
The Finishing the Building Interior textbook covers constructing stairways, installing doors, and finishing procedures with emphasis on interior walls, ceilings, and floors.
Does your curriculum require additional topics not included in this textbook? Build a customized version of the Finishing the Building Interior textbook below.
Recommended Contact Hours – 10
Preview a Chapter
Available Supporting Material
Table of Contents
My Custom Book
Exam Copies
Suggested Titles
Table of Contents
Chapter 1: Interior Walls and Ceilings
Topics: Plasterboard construction and application; Fastening and cutting plasterboard; Corners and edges; Drywall construction and taping; Paneling; Plaster and masonry walls; Suspended tile ceilings
Learning Objectives:
Explain how to fasten single-ply plasterboard panels to the stud framing for interior walls.
Describe the three-step procedure for cementing and taping drywall construction.
Name the advantages of a drywall system that uses metal studs.
Explain how to install interior plywood paneling.
Differentiate between the three coats of plaster required for plaster wall construction.
Identify the main parts of the framing system for suspended tile ceilings.
Chapter 2: Laying Flooring
Topics: Concrete and wood floors; Finishing and prefinished wood floors; Underlayment; Resilient floor coverings; Ceramic tile; Wood decking
Learning Objectives:
Tell the differences between strip, block, and plank flooring.
Explain how to lay flooring strips, keep them straight, and make adjustments when they are not straight.
Tell how to plan and make a careful layout for installing a wood block floor.
Give the sequence of sanding operations for a newly installed wood strip floor.
Name the materials you can use for underlaying a resilient or ceramic floor.
Explain how to lay a tile floor with the tile veneer method.
Chapter 3: Stair Construction
Topics: Prefab stairs; Stairway parts, framing; Determining the height of risers, width of treads, run of stairway, and length of stringers; Railings
Learning Objectives:
Describe some of the common stairway configurations: open, closed, L-shaped, U-shaped, etc.
Starting with the stringers, name all the parts in a stair assembly.
Explain how to use a story pole to check stair calculations.
Tell how to anchor a flight of stairs.
Name the guidelines for constructing handrails or railings in stairways.
Chapter 4: Interior Doors and Door Jambs
Topics: Hinge construction, operation, and installation; Constructing a door jamb; Installing doors; Locking devices for doors
Learning Objectives:
Explain how hollow-core, fiber-core and solid-core doors differ in construction.
Tell how to remove a door hung on hinges with fixed pins. Also with loose pins.
Give the guidelines for placing three hinges on the edges of a door.
Describe how to install a single-swing door.
Differentiate between pocket-type and bypass-type sliding doors.
Name a few of the types of locks used on interior doors.
Chapter 5: Installing Interior Trim
Topics: Types of molding; Joints; Using a miter box; Installing door trim, window trim, and baseboards
Learning Objectives:
Differentiate between a base shoe molding and a baseboard molding.
Give the uses of cove, crown, and half-round moldings.
Describe how to make a scarf joint and coped joint.
Demonstrate how to cut a 45 miter with a miter box.
Tell how to install the casing around a door opening
Explain how to construct the interior casing for a window.
Add Chapters to Your Custom Book
Select Chapter(s):
Chapter 1: Interior Walls and Ceilings
Chapter 2: Laying Flooring
Chapter 3: Stair Construction
Chapter 4: Interior Doors and Door Jambs
Chapter 5: Installing Interior Trim
My Custom Book
Create a custom book that contains only the training content that your students need to succeed
Our topics cover a broad and diverse spectrum of subject matter, from reading blueprints to electrical schematics, measurement to rigging and safety, material handling to welding, and everything in between! Choose only the lessons that meet your specific curriculum requirements.
Request Exam Copies
Exam Copies
Ready to see a copy of our textbooks? After selecting which textbooks you'd like to review for your course, you can submit your request by either logging in or creating an account so we know where to ship your exam copies. A representative from Schoolcraft will contact you to confirm and finish processing your request.

Exam copies are always free and yours to keep.
Selected Exam Copies
none selected
* Maximum of five copies can be ordered