Work Planning and Setup (workbook)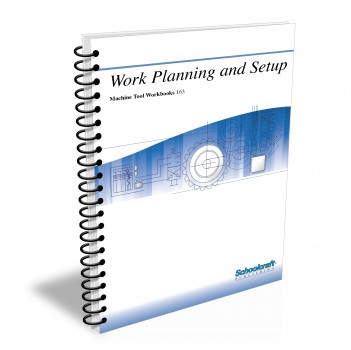 Course Number: 163
The Work Planning and Setup workbook covers Holding work on slotted tables; Using clamps, blocks, jacks, and rods; Vises and their uses; Production jig; Holding work with chucks, between centers, and on face plates; Basic layout: lines, angles, shapes, circles, and three-dimensional shapes.
Does your curriculum require additional topics not included in this workbook? Build a customized version of the Work Planning and Setup workbook below.
Recommended Contact Hours – 2
Preview a Chapter
Available Supporting Material
Table of Contents
My Custom Book
Exam Copies
Suggested Titles
Table of Contents
Chapter 1: Holding Work on Slotted Tables
Topics: Work Holding Setups; V-Blocks; C-Clamps; Planer Jacks; Parallels; Soft Metal Rods; Hold-Downs; Types of Vises; Flanged Vise; Swivel Vise; Universal Vise; The Production Jig; Magnetic Chucks; Electromagnetic Chuck; Permanent Magnetic Chuck
Chapter 2: Lathe Workholding Devices
Topics: Holding Work in Lathes; Holding Work in Chucks; The 3-Jaw Universal Chuck; The 4-Jae Independent Chuck; The Collet Chuck; Holding Work Between Centers; Holding Work on Faceplates
Chapter 3: Basic Layout
Topics: Lines, Angles, and Shapes; Right Angles; Straight Angles; Parallel and Perpendicular Lines; Layout Work; Triangles; Squares and Rectangles; Circles; The Parts of a Circle; Concentric and Eccentric; 3-Dimensional Shapes
Add Chapters to Your Custom Book
Select Chapter(s):
Chapter 1: Holding Work on Slotted Tables
Chapter 2: Lathe Workholding Devices
Chapter 3: Basic Layout
My Custom Book
Create a custom book that contains only the training content that your students need to succeed
Our topics cover a broad and diverse spectrum of subject matter, from reading blueprints to electrical schematics, measurement to rigging and safety, material handling to welding, and everything in between! Choose only the lessons that meet your specific curriculum requirements.
Request Exam Copies
Exam Copies
Ready to see a copy of our textbooks? After selecting which textbooks you'd like to review for your course, you can submit your request by either logging in or creating an account so we know where to ship your exam copies. A representative from Schoolcraft will contact you to confirm and finish processing your request.

Exam copies are always free and yours to keep.
Selected Exam Copies
none selected
* Maximum of five copies can be ordered